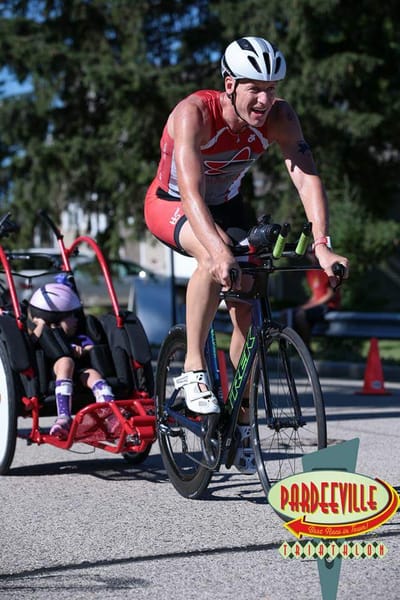 ​​​​After a wrestling injury in college and getting out of shape, I found myself channel surfing in the summer of 2000 and was intrigued by the story of a father that pulled his son in a raft for 2.4 miles of swimming, biked 112 miles with him on an adapted bike, and ran a full marathon pushing him in a running cart on the island of Kailua Kona at the IRONMAN World Championships. I said to myself two things. First, if this man can accomplish this feat, surely I can get off the couch, get back into shape, and attempt my own Triathlon. And second, maybe someday, when I get married and have kids of my own, how cool would it be to cross the finish line of a triathlon with them.

That day I set out to lose weight, get back into shape, and began training. The following year, I completed my first triathlon, and continued to race the shorter sprint and olympic distance races. In the fall of 2002, I completed my first Ironman in Florida. I began to see improvements and even started having success, winning a few races along the way. I met my wife, Nicole, in 2004. In 2005, we traveled to Hawaii for the short distance World Championships (no, not the Ironman), and came back engaged. We married in the fall of 2006, and our son, Rowen, was born in 2009. Throughout all of this, I continued racing. At one of my first races after he was born, I was able to carry him across the finish line, just as I had hoped to someday do. It was Father's Day! And I won! Life was great.

After Ellery was born, things slowed down a little bit as we adjusted to our new life. Life wasn't so great anymore, as our lives were inundated with doctor appointments, therapies, dealing with insurance, and the added weight of what life will not be like in the future. It wasn't until I was reminded of the original inspiration of why I started the sport of triathlon in the first place that I realize there was some good that could come from the situation we were in. I pushed through and continued racing.

Regardless of the fact we were expecting our third child, Avery, in the spring of 2015 Nicole convinced me to pursue my passion and attempt another Ironman. It had been 13 years since my last race at the distance. Having 3 kids, all under the age of 5, made the task of training and racing a difficult one. Add in fact one of the kids has special needs and another was less than 6 months old made it even more . . . fun. Crossing the finish line at the Ironman Wisconsin in 2015 was more than an accomplishment for me. It was an accomplishment for our family. A friend captured a candid moment between my wife and me immediately after the race, while she had all three kids in tow, with a caption, "THEY did it."

Shortly after, a friend pointed me in the direction of myTeam Triumph. Their mission is to enrich the well-being of individuals with diverse abilities and foster lifelong relationships through community athletics. Through them, Ellery and I were able to participate in our first triathlon together in the summer of 2016, where I was able to pull her in a raft and cart, and push her on the run. The smile on her face as we crossed the finish line together had me hooked. From that moment I knew I wanted to make this more of a regular occurrence not only for Ellery, myself, and our family, but to help others in similar situations. This was the birth of Team Langer.

Someday Team Langer will participate in an Ironman. Unfortunately all participants are required to be 18 years old, so for now, that will have to wait. But we have plenty of time to prepare for that and participate in the shorter distances and work our way up to that. Keep an eye out for Team Langer at upcoming races. Our goal is to include Ellery in events, just like the rest of her family. But we also hope to inspire other people, while at the same time help families like ours where help is needed.